20 Yard Dumpster Residential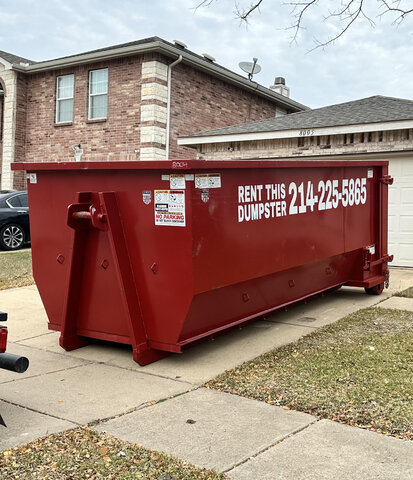 Size: 14'L x 7'W x 6'H
Days: Up to 7 Days
Rent Time Extension: $20 Per Additional Day
Ton(s): 2 Included
Extra Weight: $30/1,000 lbs
Description
15 Yard Roll Off Dumpsters
14 Feet Long
7 Feet Wide
4 Feet Tall
Large rear swing door with easy walk-on and walk-off access. Roll-off has wheels to protect your driveway. It can be placed in your driveway, on grass, gravel or asphalt. Our rentals are for a 24 hour period. We deliver/pickup the dumpsters between 9am-5pm Monday through Saturday. You will receive a text when our driver is enroute to your location.
All dumpsters come with 2 tons of waste included (4,000 lbs). Additonal tonnage will be charged at $75/ton.  Prohitibted items: Concrete, Paint, Hazardous Materials, Dirt
A 20 yard dumpster is the perfect solution for residential waste removal projects. This dumpster size is ideal for medium-sized home renovation projects, such as kitchen or bathroom remodels, or for cleaning out a garage or basement. It can hold up to 20 cubic yards of waste, which is equivalent to approximately six pickup truck loads. The 20 yard dumpster is 14 feet long, 7.5 feet wide, and 5.5 feet tall. It features a rear door that swings open for easy loading and unloading of bulky items. This dumpster is perfect for homeowners who want to get rid of large amounts of waste in a timely and efficient manner. It is also a great option for contractors who need to dispose of construction debris. With a 20 yard dumpster, you can keep your residential project organized and tidy while ensuring that all waste is properly disposed of.
20 Yard Dumpster Residential