20 Yard Dumpster Residential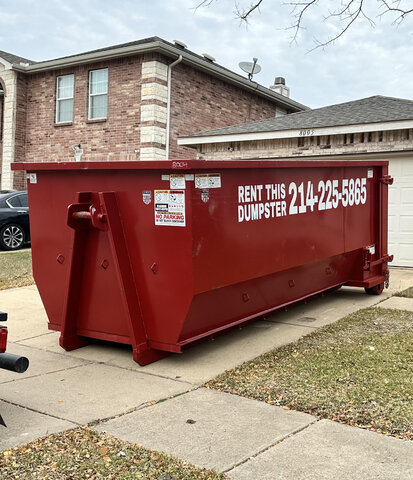 Size: 14'L x 7'W x 6'H
Days: Up to 7 Days
Rent Time Extension: $20 Per Additional Day
Ton(s): 2 Included
Extra Weight: $37.50/1,000 lbs
Description
Introducing our 20 Yard Roll Off Dumpsters!
If you're looking for a dumpster with a bit more capacity, our 20 yard option is the perfect choice. With additional space compared to our 15 yard dumpster, it offers enhanced convenience and flexibility for your waste disposal needs. Let's explore why opting for the 20 yard dumpster can be beneficial and how it compares to its smaller counterpart.
DIMENSIONS: 6' tall x 14' long x 7' wide
Imagine a container that stands 6 feet tall, stretches 14 feet in length, and spans 7 feet in width. That's the size of our 20 yard dumpster. To help put it in perspective, it can typically accommodate the equivalent of approximately six pickup truck loads of waste. This increased capacity is ideal for projects that generate more substantial volumes of debris or require the disposal of bulkier items.
Now, let's discuss why customers often choose the 20 yard dumpster over the 15 yard option. The 20 yard dumpster provides several advantages:
Ample Space: With the extra room, you'll have more space to dispose of larger items, such as furniture, appliances, or sizable construction debris. It's an excellent choice for medium-sized renovation projects, estate cleanouts, or garage cleanups.

Extended Rental Period: Our 20 yard dumpster comes with a generous rental period of up to 7 days, which is included in the base price. This longer timeframe allows for greater flexibility, giving you ample time to complete your project without feeling rushed.

Higher Weight Capacity: The base price for the 20 yard dumpster includes disposal fees for up to 2 tons of waste. This increased weight allowance provides more flexibility in handling heavier materials, ensuring you can dispose of your waste without incurring additional charges.
Additional information about our 20 yard dumpster:
Large rear swing door with easy walk-on and walk-off access
Roll-off equipped with wheels to protect your driveway
Suitable for placement on driveways, grass, gravel, or asphalt
Delivery and pickup between 8 am and 8 pm, Monday through Saturday. Our driver may contact you when enroute to your location.
The base price for renting our 20 yard dumpster is $420 (+ Tax), which includes:
1 delivery and 1 pickup of a 20 yard container
Up to 7 days of rental period starting from the day of delivery
Disposal fees for the first 2 tons of waste
Permitted Waste: Our 20 yard dumpster is suitable for handling standard C&D (construction and demolition) waste, just like our 15 yard dumpster. This includes materials such as wood, drywall, wiring, insulation, pipes, PVC, carpet, tile, glass, furniture, vinyl, linoleum, metal, and granite/stone.
Prohibited Waste: Certain items are prohibited from disposal in our dumpsters. These include hazardous materials, appliances containing Freon, paint, concrete, and dirt. We encourage you to review our full Terms and Conditions prior to booking to ensure compliance with waste disposal regulations.
By opting for our 20 yard dumpster, you'll gain additional capacity, extended rental time, and a higher weight allowance, making it an excellent choice for projects requiring a bit more space and flexibility.
20 Yard Dumpster Residential