Affordable Choice for a Local Dumpster Rental Red Oak TX
Got trash to dispose of? We are the go-to for an affordable choice for a local dumpster rental Red Oak TX. For years, we have been the most sought out company when it comes time to rent a dumpster in Red Oak Texas. American AF Dumpsters should be the go-to waste removal option for any homeowner or business owner looking for a reliable and effective way to get rid of that unwanted junk or trash. By using a reputable dumpster rental companies Red Oak, you can get rid of waste swiftly and efficiently, without breaking the bank. American AF Dumpster Rentals service offers dependable, fast dumpster rental Red Oak, TX. Contact us now at (214) 225-5865 to rent a dumpster in Red Oak today.
Many people still erroneously believe that they need to be doing very particular projects to get a trash dumpster rental in Red Oak. This could not be further from the truth. We have small and medium size dumpsters to suit different types of renters in our community. We also have the most flexible rental terms in Red Oak and with only a phone call, anyone can get a suitable roll-off dumpster for any project, even on the same day. American AF Dumpster Rentals proudly offers dumpster rental Red Oak services for residential, commercial, industrial, and many more applications within the surrounding areas. Book your next commercial grade, high quality affordable dumpster rental Red Oak locals have trusted for years right here on our website with a few clicks of a button.
Need help choosing the right service? Give us a Call: (214) 225-5865
We Take Just About Everything
Some examples of the junk we haul away include
Refrigerator Disposal

Garbage Removal

Mattress Disposal

Foreclosure Clean Outs
Construction Waste Removal

Yard Waste Removal

Trash Removal

Appliance Removal
Television Disposal & Recycling

Furniture Removal

E-Waste Disposal

Hot Tub Disposal
#1 Source for Dumpster Rental in Red Oak TX Residents Can Rely On
For years now, we have become the #1 source for a dumpster rental in Red Oak TX that everyone can rely on. Our customers love using us for a variety of reasons to handle their waste. You won't have to be concerned about our delivery drivers being late, unprofessional, or damaging your drop-off spot. We take pride in offering the best possible customer service available in the area. Put your trust in us, just like the rest, when it comes to dumpsters Red Oak TX. We pledge not to let you down!

Garbage and trash collection should never be a problem. It's never been more practical or approachable. We have the best options for a local dumpster rental in Red Oak that residents require to ensure the success of their next project. We have the solution for you if you're seeking to start that long-overdue residential remodel, spring cleaning, or other outside job. There's no better time to get started than now by reserving a dumpster rental in Red Oak, TX; you need to get the job done right. We provide a variety of sizes to meet your needs for a dumpster rental in Red Oak:

• 10-yard dumpster (Coming Soon)
• 15-yard dumpster
• 20-yard dumpster
• 30-yard dumpster (Coming Soon)
Various Uses for a Red Oak Dumpster Rental
One of the single most essential contributing aspects to a project's success is waste management utilizing a Red Oak dumpster rental. That's why we provide Red Oak, Texas contractors with a cost-effective trash dumpsters Red Oak. As a result, choosing one of the responsible roll off dumpster companies in Red Oak TX is critical, but don't let waste management get in the way of a successful project. With each new project, carefully picking the dumpster size will guarantee everything proceeds as efficiently and smoothly as possible, ensuring that there is enough area for your garbage and most importantly that the roll off dumpster can fit within the project site. For different types of Red Oak dumpster rental projects, there are a range of options and sizes to pick from. We can handle any type of waste, including building debris, old furniture, landscaping material, and much more. Let us take care of your garbage! Below are a few examples of the types of applications or uses for dumpsters in Red Oak.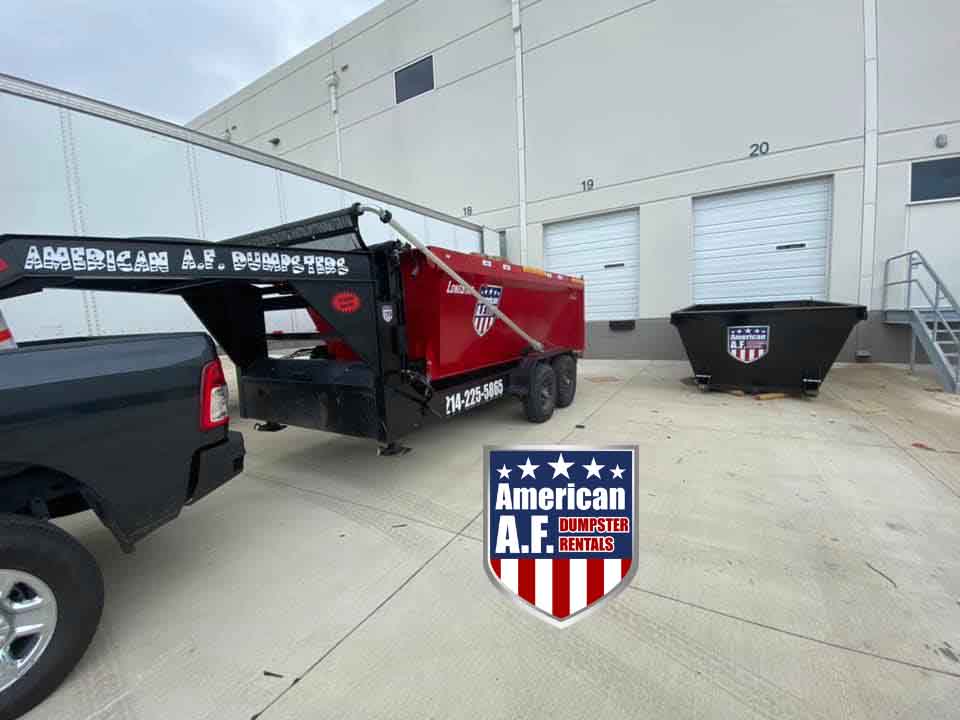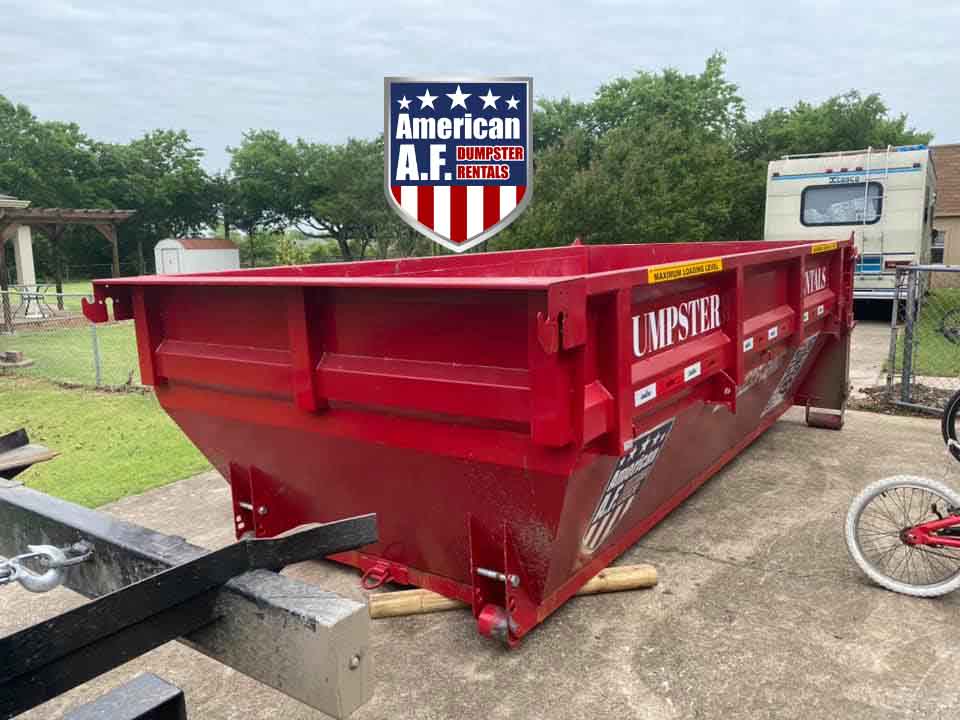 Residential Dumpster Rental Red Oak
A typical residential project that would require a homeowner to choose roll-off dumpster rentals Red Oak may include furniture removal, a yard maintenance, a kitchen renovation, a shed demolition and even a roofing replacement projects. American AF Dumpster Rentals offers spacious Red Oak residential dumpster rental options for all home improvement projects. We provide various sizes available for a residential dumpster rental Red Oak that are suitable for regular home renovation projects including roofing replacements, junk and old furniture removal, garage, and attic cleanup projects, shed demolitions, bathroom remodeling projects and any other residential project you can think of. You can select either our 15-yard dumpsters or 20-yard dumpsters depending on how much trash or junk you need to dispose of. We are one of the trusted local sources for residences looking for dumpster rentals Red Oak.
Yard Waste Dumpsters in Red Oak TX
Our homeowners love the small yard waste dumpsters in Red Oak TX such as the 10 and 15 yard options for their yard work. Check out our choices for yard waste and trash dumpster rental Red Oak to handle all your outside related projects around the house. Whether its gardening, cleaning out the shed in the backyard, landscaping projects, and more; there is one thing they all have in common and that is tons of trash. We have the perfect solution to handle just that for you at an affordable rate without having to stick everything by the curb hoping your trashman will pick it up. Just have it hauled away right when you're done with it, easiest and cleanest way possible? Who knew it would be that easy a garbage dumpster rental Red Oak.
Construction Dumpster Rental Red Oak
Are you a contractor looking for an affordable construction dumpster in Red Oak TX? American AF Dumpster Rentals offers both small and large dumpster rentals to accommodate a wide variety of construction uses both residential and commercial construction applications. We offer large roll off construction dumpsters Red Oak that are also very popular with roofers and local general contractors. Whether it's for a small project's materials waste or heavy construction debris as well as tons of different discarded materials to dispose of. Either way, we have something to suit everyone's needs depending on the project site when it comes to a construction dumpster Red Oak. Just fill your roll-off with the debris, and when you are done, we will do the rest. The absolute best option for construction dumpster rentals Red Oak trusts. See why so many general contractors to heavy contracting firms use us for their Red Oak construction dumpster rental needs.
Roofing Material Red Oak Construction Dumpsters
We have sizes readily available for our local roofers who love our Red Oak construction dumpsters. They know they can rely on a quality roofing dumpster to be delivered to their jobsite on time, every time. No need to worry about holding up the job waiting on us to arrive, just schedule with our dispatch the times needed and you're all set. Let us know it's for roofing so our drivers are aware of placement prior to arrival. A representative for the roofing company many need to be on site at the time of delivery. We have been dropped off our Red Oak construction dumpster rentals to roofers all over the city for years. They love the options we carry, perfect for their job site locations.
Commercial Dumpster Rental Red Oak TX
We have sizes to accommodate any commercial or industrial type needs for their Red Oak dumpster service. Whether it's a small 10 yard or large 40 yard, we have them all and can deliver to any location. Of course, our trucks will need ample enough room to drop and pick up your dumpster on-site. With a wide variety of commercial waste disposal projects such as foreclosure cleanouts, rental unit cleanouts, and renovations and much more that will need an affordable dumpster rental Red Oak businesses know they can rely on. Anything a business owner or a local commercial location in Ellis County would need trash management solutions for, we have you covered with tons of inventory to boot ready to handle all of your one-time temporary short-term one day dumpster rental Red Oak or an ongoing long term solutions catered to your business needs. Reach out to one of our specialists to discuss our roll off dumpster service Red Oak TX today.
Demolition Dumpster Rentals
Looking to demolish a structure and need a way to haul the debris off? No problem! We offer demolition large temporary dumpsters Red Oak for a larger contractor who are consistently demoing sheds, mobile homes, garages, homes, and more. Our inventory is ever so growing so be on the lookout for larger solutions like the 30 and 40 yard options for large scale projects. The heavy construction companies rely on American AF when looking to rent a dumpster in Dumpster TX for their job sites.
Why Choose Us for a Rolloff Dumpster Rental Red Oak TX
While there are many companies to pick from for a rolloff dumpster rental Red Oak TX to pick from, remember that selecting the proper one is crucial to your success. American AF is the company you can rely on for any form of dumpster rental near me in Red Oak, no matter what type of project you have planned. We only provide high-quality, heavy-duty, constructed, and long-lasting options for a rolloff dumpster rental Red Oak that our customers know they can get the job done right without worrying about some trainwreck of a container from another source. You won't have to waste time worrying about leaking rust buckets or rear gates that won't open to fill and close, resulting in a loss of containment.

So, whether you're getting ready or planning for any impending tasks around the house then our Red Oak roll off dumpster rental might be the solution you need to get rolling. You can count on our team to assist you in selecting the appropriate equipment for the right amount of debris. We ensure that you have the correct dumpster size for the project, without the extra stress of looking to rent rolloff dumpsters Red Oak that is either too little or too large for the job. We understand that hauling away your unwanted garbage may appear to be a filthy job but be assured that we take it very seriously. To ensure that your waste is correctly disposed of our company works closely with the local waste management authority in Ellis County. We take tremendous pride in our local neighborhoods and want to keep it clean for local generations to come when they need us the most for their roll off dumpster rental Red Oak TX.

If it is safe to do so, our skilled drivers will deliver our rolloff dumpster rentals Red Oak to the area of your choice. When you're through, give us a call and we'll come back to pick it up, either to replace it with another dumpster or to transport it away to the trash. It's that simple! Simply follow the steps below to book your hassle-free rolloff dumpster rental Red Oak for any project.
Red Oak Roll Off Dumpster Rental Sizes for All Sorts of Acceptable Debris
If you are looking to get a Red Oak roll off dumpster rental for the first time, it is our goal to make sure that your experience is as smooth and as hassle free as possible. We have knowledgeable representatives who will help you find the right size dumpster for your project, if you need help, or you can just browse around are amazing new website with tons of information on how many tons, what type of debris, and sizes of the actual dumpster Red Oak, TX.
Keep in mind, not all dumpsters are the same dimensions so knowing your space you plan to have it dropped off is key. We can accommodate smaller areas depending on overhead obstructions and surrounding obstacles as our trucks are rather large. Whatever the area, just make sure it can withstand the weight and abuse until your rental is completed. Browse around the various Red Oak dumpster rental sizes available for rent to find one suitable for your needs. If you have any questions or need assistance during the rental process, don't hesitate to contact us. We have specialists standing by ready to assist you in reserving roll off dumpsters Red Oak.
A Local Favorite for a Dumpster Rental Near Me in Red Oak
We're the garbage kings! For any business, home, or construction job, our services are dependable and convenient. It's no surprise that we're the best dumpster rentals in Red Oak, Texas thanks to our professionalism and convenient roll-off options. We have the ideal trash disposal container and disposal technology for every project you have in mind. We get it done right and on time, every time! For a flexible, dependable, and professional delivery and pickup service offering a Red Oak dumpster rental dumpster near me, contact us today.
We rent dumpsters in Red Oak and the surrounding cities listed in our service area. If your city isn't listed above, don't hesitate to contact us because, depending on the scope of the project, we may be able to accommodate you. The following zip codes are typically serviced within the City of Red Oak: 75125, 75152, 75154. From homes in neighborhoods to businesses across the area including schools, churches, and more; our business keeps picking up your unwanted waste. There isn't anything our company doesn't handle when it comes to looking for a dumpster rental near me in Red Oak.
How to Rent a Dumpster Service Red Oak TX?
Looking to rent a dumpster service Red Oak TX knows they count on, each time they need one? Give us a call because we are waiting to take your order so that we can deliver what you need to your yard or other specified placement site. Contact us at (215) 225-5865 to rent a dumpster in Red Oak. Alternatively, if you prefer renting a dumpster online, select a dumpster on our website, order it and schedule a delivery, not forgetting to include the necessary correct delivery details.

In Red Oak, the city only requires dumpster permits from homeowners and contractors who intend to use public spaces, like a sidewalk or a street as a placement area. Renters with private placement areas for their dumpsters do not need dumpster permits. If you need a permit, you can easily get it from the local offices. Contact us today for reliable dumpster rentals in Red Oak, TX.
The Red Oak Dumpster Rental Company You Can Rely On
What makes American AF Dumpster Rentals the Red Oak dumpster rental company you can rely on is our commitment to providing affordable on-time roll-off rentals that you can count on. We have versatile options for a dumpster Red Oak TX, and we offer flexible rental terms for all roll-off container sizes. Call us to get low-cost residential dumpsters and commercial dumpsters in Waxahachie today. We also have dumpster rentals in Waxahachie, TX.
Frequently Asked Questions Before Booking a Red Oak Dumpster
Booking a Red Oak dumpster shouldn't be a hassle and that is why we have pulled together the top frequently asked questions for our customers. Over the years, we have been the leading supplier for a dumpster Red Oak folks know they can count on each time. At the end of the day, we need to ensure all our customers have everything they need to choose which is right for them when looking to rent a roll off dumpster in Red Oak. If you have any questions further than below, feel free to reach out to our team and we will be happy to help you along the way.

1. What type of debris can I dispose of?
We have a full list of items that can be disposed of using our services above, but you can find a full list here:

2. How much weight can I put in a typical container?
Every container is different, but our website shows the amount of tonnage recommended.

3. How long is the rental for?
Every rental period varies according to the customer. Just rent a roll off dumpster Red Oak by booking the time needed and let us do the rest.

4. Will it damage the surface it will be set up on?
No, our professional drivers know how to set up correctly to avoid any unwanted damage. Please call our office to discuss your surface if you have any concerns.

5. What if I run out of room and need another dumpster?
It's simple really, just give our office a call to have a driver dispatched to your location to either swap out another dumpster or pick it up when you're done.
Testimonials from Loyal American AF Customers for Their Red Oak Dumpster Rentals
American AF Dumpster Rentals has been serving the Red Oak, Texas and surrounding areas for everything waste and garbage related. We like to think of ourselves as the local experts when it comes to Red Oak dumpster rentals because we have countless happy customers who use our services time and time again. They know they can rely on our company for their projects both at home and businesses. Don't take our word for it, look at the testimonials from the many loyal customers we have served over the years. There is a reason so many seek us to rent a dumpster in Red Oak TX. We are a 5-star company with tons of reviews on both Google, social platforms, and other sites across the web. See why so many choose us for their dumpster service Red Oak TX.

"Amazing customer service and on time delivery. Driver was so professional and courteous about our new driveway we had poured." J. Stone

"Wonderful prices and perfect size dumpster." H. Lopez

"Very professional would use them again and again." R. West