25 Yard Dumpster Residential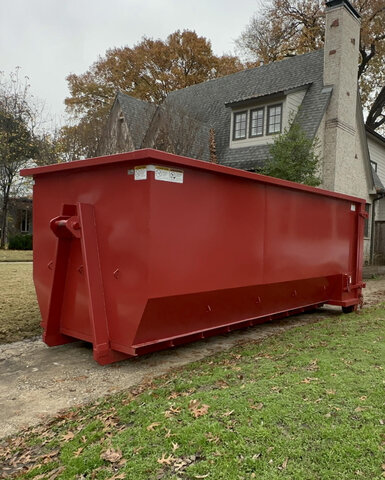 Days: Up to 7 Days
Rent Time Extension: $25 Per Additional Day
Ton(s): 2 Included
Extra Weight: $37.50/1,000 lbs
Description
Introducing our 25 Yard Roll Off Dumpsters!
When it comes to handling large-scale projects or substantial amounts of waste, our 25 yard dumpster is the ultimate solution. With its impressive capacity and versatile dimensions, it provides the ideal balance between space and convenience. Let's delve into the details and understand why opting for our 25 yard dumpster is a smart choice.
DIMENSIONS: 6' tall x 16' long x 7' wide
Imagine a container standing 6 feet tall, stretching 16 feet in length, and spanning 7 feet in width. That's the size of our 25 yard dumpster. To give you a visual comparison, it can typically accommodate the equivalent of approximately nine pickup truck loads of waste. This larger capacity makes it perfect for handling significant amounts of debris, whether it's from major construction projects, whole-home renovations, or commercial cleanouts.
Now, let's explore the advantages of choosing our 25 yard dumpster:
Spacious Capacity: With its substantial dimensions, the 25 yard dumpster provides ample space to dispose of large and bulky items. Whether you need to get rid of furniture, appliances, construction debris, or extensive amounts of waste, this dumpster will meet your needs with ease.

Extended Rental Period: Our 25 yard dumpster offers an extended rental period, allowing you up to 7 days to complete your project. This longer timeframe ensures you have enough time to tackle even the most extensive endeavors, without feeling rushed or constrained.

Versatile Size: The dimensions of our 25 yard dumpster make it a flexible option for placement in various locations. Whether you need it in a residential driveway, on a construction site, or even in commercial spaces with limited maneuverability, its size allows for easier accessibility and positioning.
Additional information about our 25 yard dumpster:
Large rear swing door for convenient walk-on and walk-off access
Roll-off design with wheels to protect your driveway or surface
Suitable for placement on driveways, construction sites, or other designated areas
Delivery and pickup between 8 am and 8 pm, Monday through Saturday. Our driver may contact you when enroute to your location.
The base price for renting our 25 yard dumpster is $520 (+ Tax), which includes:
1 delivery and 1 pickup of a 25 yard container
7 days of rental period starting from the day of delivery
Disposal fees for the first 2 tons of waste
Permitted Waste: Our 25 yard dumpster is suitable for handling a wide range of standard C&D (construction and demolition) waste materials, similar to our other dumpster sizes. This includes items such as wood, drywall, wiring, insulation, pipes, PVC, carpet, tile, glass, furniture, vinyl, linoleum, metal, and granite/stone.
Prohibited Waste: Please note that certain items are prohibited from disposal in our dumpsters, including hazardous materials, appliances containing Freon, paint, concrete, and dirt. We highly recommend reviewing our full Terms and Conditions prior to booking to ensure compliance with waste disposal regulations.
By choosing our 25 yard dumpster, you'll benefit from its generous capacity, extended rental period, and versatile size. It's the ideal solution for handling large projects, extensive cleanouts, or when you simply need extra space to manage your waste efficiently.
25 Yard Dumpster Residential